Chris & Robert are The Film Flamers - a podcast covering the production, film history, and legacy of each horror film (or horror adjacent film) they cover, with a bit of comedy tossed in! Expect deep dives of both new and old favorites, hot takes and movie reviews of new releases, top ten lists, and the latest horror movie news. When it comes to horror movies, The Film Flamers podcast has you covered... in blood!
Episodes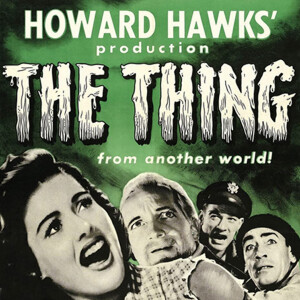 Monday Jan 09, 2023
Monday Jan 09, 2023
The Thing From Another World (sometimes referred to as just The Thing) is a 1951 American science fiction horror film directed by Christian Nyby and produced by Edward Lasker for Howard Hawk's Winchester Pictures and released by RKO. The film stars Margaret Sheridan, Kenneth Tobey, Robert Cornthwaite, and Douglas Spencer. James Arness plays The Thing, although he is difficult to recognize in costume and makeup due to both low lighting and other effects used to obscure his features. The film is based on the 1938 novella Who Goes There? written by John W. Campbell.
If you have anything to add to the discussion, please don't hesitate to do so by reaching out to us on social media @TheFilmFlamers, or call our hotline and leave us a message at 972-666-7733!
Watch The Thing From Another World: https://amzn.to/3GCdUUI 
Out this Month:
Week 1: Shooting the Flames
Week 2: The Thing From Another World (1951)
Week 3: The Thing (1982)
Week 4: Break!
Week 5: Up In Flames: 2022 in Review
Patreon: The Thing (2011)
Coming in February 2023:
Get in Touch: 
Our Patrons:
#ExiledTexan
Ashlie Thornbury
BattleBurrito
Benjamin Gonzalez
Bennett Hunter
Brandon Anderson
CenobiteBetty
Christopher N
Dan Alvarez
daveisruff
Erica Huff
Gia-Ranita Pitt
GlazedDonut
GWilliamNYC
Jessica E
Kimberly McGuirk-Klinetobe
Kyle Kavanagh
Lisa Libby
Loch Hightower
Matthew McHenry
Mimi Hunter
Nicole McDaniel
Nikki (phillyenginerd)
Orion Yannotti
Penelope Nelson
Quel Parish
random dude
Richard Pringle
Robert B.
Robert E
Sean Homrig
Senor Sombra
Walstrich
 
Sweet dreams... 
"Welcome to Horrorland" by Kevin MacLeod (incompetech.com). Licensed under Creative Commons: By Attribution 3.0 License http://creativecommons.org/licenses/by/3.0/

Includes music by Karl Casey @ White Bat Audio