Chris & Robert are The Film Flamers - a podcast covering the production, film history, and legacy of each horror film (or horror adjacent film) they cover, with a bit of comedy tossed in! Expect deep dives of both new and old favorites, hot takes and movie reviews of new releases, top ten lists, and the latest horror movie news. When it comes to horror movies, The Film Flamers podcast has you covered... in blood!
Episodes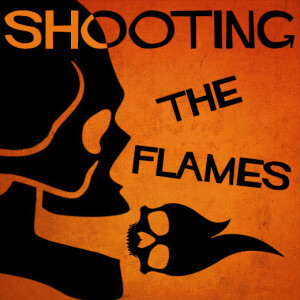 Monday Aug 07, 2023
Monday Aug 07, 2023
We're kicking off the month by giving you an extra packed Shooting the Flames episode for our 5th Anniversary, where we discuss all your comments, questions, and voicemails, and give you the latest horror movie news and trailers!
If you have anything to add to the discussion, please don't hesitate to do so by reaching out to us on social media @TheFilmFlamers, or call our hotline and leave us a message at 972-666-7733!
News
Trailers
Out this Month:
Week 1: Shooting the Flames
Week 2: Prey
Week 3: Predator
Patreon: Predator Franchise Poll!
Coming in September 2023:
A Nightmare On Elm Street 3 & 4
Get in Touch: 
Our Patrons:
#ExiledTexan
Alex Mendoza
Anthony Criswell
Ashlie Thornbury
BarbieDolly
BattleBurrito
BelleBeignet
Benjamin Gonzalez
Bennett Hunter
Big Dave
BreakfastChainsawMassacre
CenobiteBetty
Christopher Nelson
Dan Alvarez
Gia-Ranita Pitt
Gillian Murtagh
GlazedDonut
GWilliamNYC
Incognicat
Irwan Iskak
James Aumann
Jessica E
Josh Young
Kimberly McGuirk-Klinetobe
Laura O'Malley
Lisa Libby
Loch Hightower
Matthew McHenry
McKenna Hirschmann
Nicole McDaniel
Nikki (phillyenginerd)
Orion Yannotti
Paul Perez
Penelope Nelson
random dude
Robert B.
Robert Eppers
Rosieredleader
Ryan King
Sean Homrig
William Skinner
 
Sweet dreams... 
"Welcome to Horrorland" by Kevin MacLeod (incompetech.com). Licensed under Creative Commons: By Attribution 3.0 License http://creativecommons.org/licenses/by/3.0/

Includes music by Karl Casey @ White Bat Audio